High-speed rail getting popular for tours
Share
From

China Daily
Issue Time

Jul 8,2015
Summary
High-speed rail getting popular for tours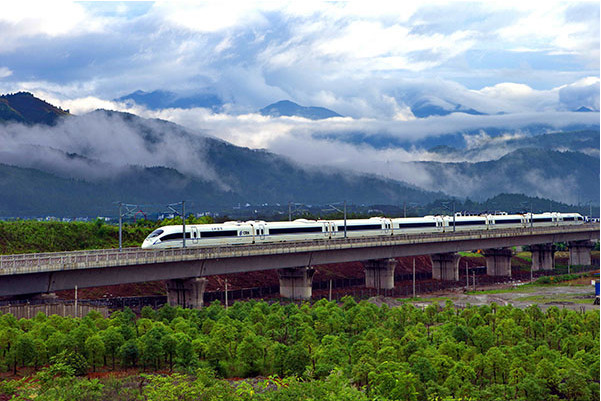 High-speed rail tours have become a popular choice of travelers, especially families and students during the peak summer season, as the growing railway network stitches the country's scenic spots together.
In a recent report by Chinese online travel agency Tuniu.com, nearly 80 percent of respondents said they are planning to travel by rail. The majority are students, parents and teachers.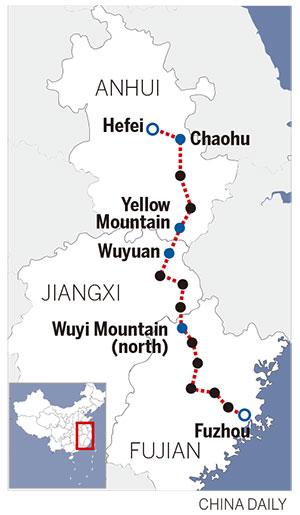 Map shows major stations along the Hefei-Fuzhou high-speed rail.
Dubbed China's "most beautiful high-speed railway", the Hefei-Fujian high-speed railway runs through Anhui, Jiangxi and Fujian provinces, connecting well-known tourist spots such as Mount Huangshan in Anhui, which is known for its clouds, rocks and pines; Wuyuan, a picturesque ancient county in Jiangxi; and Wuyi Mountain in Fujian, which is famous for its tea, karsk landscape and rich biodiversity.
Another online travel service provider, Ctrip, said the number of tourists booking high-speed rail tours on the Hefei-Fujian High-speed railway has grown rapidly since it started operations on June 28. It predicted travel routes along the railway would be the most popular ones during the summer vacation.
"Since July, the number of tourists visiting Wuyi Mountain and Xiamen (two scenic spots in Fujian province accessible by the railway), more than double in the last year," said Yan Xin of Ctrip's public relations department. "To meet the growing demand of tourists attracted by the railway, we have introduced 52 travel routes for group and individual travelers."
Local railway departments also introduced special rail tours. Beijing said it will operate three special rail tours from the capital to China's northwest and northeast in an eight to 11 day journey in July and August. All three trains contain only private four-bed cabins for the convenience of group tourists and families.
"High-speed rail is more convenient and cheaper than flights and regular trains, which has attracted those who didn't think about travel before," said Yan. "For the same travel route, groups using high-speed rail are about 30 percent cheaper than groups on flights."
Yan added that tourism authorities and scenic spots along the railway have introduced discounts.
Wei Xiao'an, secretary-general of the China Tourism Leisure Association, said that transportation restricted tourism in the past.
"Back in the 1980s, we had limited trains and limited tickets, so the number of tickets kind of decided the number of tourists," said Wei.
"Now, railways have brought more opportunities and also challenges," added Wei. "Because the travel hours are shortened, many visitors will not stay as long as they stayed before. And this means local travel service providers need to figure out how to improve their products, not only to attract tourists but also to keep them."