Performance characteristics SMC-5000 slip-form concrete paver
Share
Issue Time

Aug 30,2019
Summary
Performance characteristics SMC-5000 slip-form concrete paver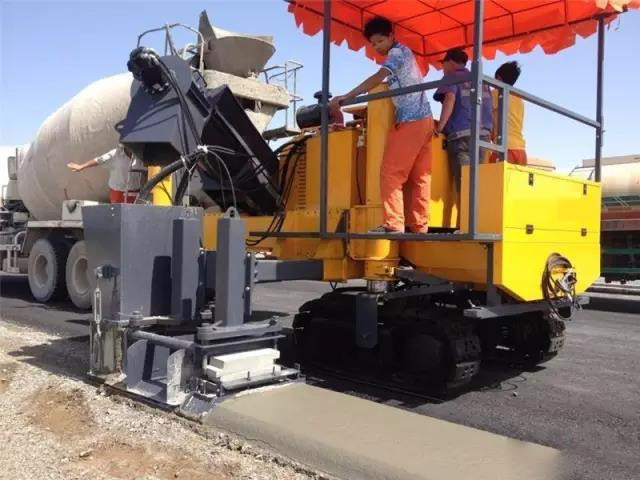 1. Electrical control system:
The advanced CAN-BUS bus communication system is adopted between the operating platform and the main control box, which makes the system simple and reliable.
Using a wide screen LCD display with friendly interface, the working state of the whole machine is clear at a glance, the operating table can be rotated and disassembled, and it is easy to operate during construction.
2. Full hydraulic drive system:
Imported brand load-sensitive variable displacement pump can save energy and reduce temperature rise of hydraulic system.
Hydraulic valves are imported brands of DANFOSS, ATOS and HYDRAFORCE with superior and reliable performance.
The valve block has compact structure and convenient maintenance.
Hydraulic vibrating rod is imported from WYCO, USA. It is stable and reliable.
3. Multipurpose use of one machine:
Low-grade rural roads, squares, sidewalks and agricultural irrigation canals for concrete structures are placed in the mould.
Die offset is used for curb stone, side ditch, anti-collision wall, etc.
4. Other performance:
Hydraulic offset die can greatly shorten the time before pouring, and make the sliding die machine suitable for paving under any working conditions.
The feeding screw or belt can rotate, tilt and offset, which can make the outlet port to the main die hopper, and narrow it for the sliding die machine to run and transport.
The right rear crawler has hydraulic offset function, which can adjust the distance between the crawlers, facilitate loading and increase the width of the central paving.
The leveler directly driven by hydraulic motor has compact structure and strong power. It can mill hard roadbed, make the back die side plate more consistent with the roadbed, and reduce paving leakage.
It has the function of manual emergency walking. If necessary, the sliding mode paver can be driven away from the working face.