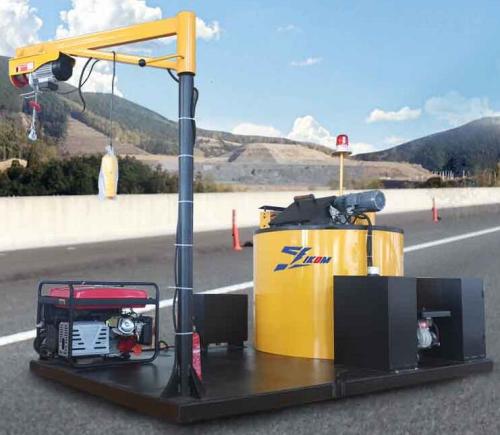 Truck Mounted Crack Sealing Machine
Description
Main Technical Description
(1)Power Unit: 5.5KW Honda generator and with all electric motor, it is easy to operate and maintenance.
(2) Heating unit: Diesel Burner + heating transfer oil +electric heating wire for the hose. improving heat exchange rate, reducing waiting time and prolonging working time. Auto-thermostatic control system ensures the constant sealant temperature.
(3) Big design platform: can load the router and blower easily by the Electric hoist to the platform.
(4) Digital control box. All the temperate are shown on digital meter and all the operation are done by the control box.
Model

ZM-GF300

ZM-GF500

Dimension(mm)

3000x1700x1900

Weight(kg)

1200

Mix tank(L)

266

500

Heating oil capacity(L)

93

140

Sealant melting capacity(kg/h)

260

260

Agitator motor power(kw)

1.5

Output motor power(kw)

0.75

Sealant hose heating power(kw)

1.1

Burner power(kcal/h)

56000

Burner Fuel oil tank capacity(L)

80

Generator power(kw)

5.5

Generator oil tank capacity(L)

25

Output voltage(V)

380/220

Hoist motor power(w)

850

Loading weight(kg)

200~400